Reckless Driving Lawyer in Raleigh, NC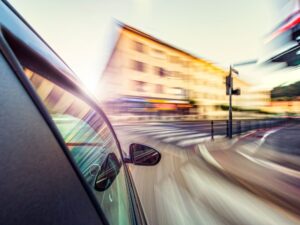 Reckless driving involves more than just making a careless driving mistake. Under North Carolina law, reckless driving is driving at a speed or in a manner likely to endanger people or property. Reckless driving is a Class 2 misdemeanor. If you sustained injuries in a crash and the other driver was charged with reckless driving, you may have grounds to pursue a personal injury lawsuit demanding compensation for not just your medical expenses, lost wages and pain and suffering, but potentially punitive damages as well.
If you have been injured in a car crash caused by a reckless driver, call the automobile accident attorneys at Younce, Vtipil, Baznik & Banks  today. We can help you evaluate your legal options to seek compensation for your losses. The criminal courts may hold a reckless driver accountable for breaking the law, but a conviction won't cover your medical bills or loss of income due to your injuries. You will need to pursue separate action to seek compensation from the at-fault driver's insurance company. We'll fight for you, so you can focus on getting your life back together and moving forward.
Contact us now for a free consultation about your legal right to compensation from the reckless driver who wrecked your life. Call 919-661-9000 for a free consultation.
What Is Reckless Driving in North Carolina?
Reckless driving under North Carolina law is driving a vehicle upon a highway or any public vehicular area either …
Carelessly and in willful or wanton disregard of the rights or safety of others, or
Without due caution and at a speed or manner likely to endanger any person or property.
The driver of a commercial motor vehicle carrying an oversize or overweight load may also be driving recklessly, according to North Carolina law.
Common Types of Reckless Driving
Specific acts that may be regarded as reckless driving include:
Excessive speeding
Illegal passing
Weaving through traffic
Ignoring traffic signs and signals
Fleeing a police officer
You need a clear understanding of your legal options if you have been involved in an accident with a reckless driver. A consultation with a personal injury attorney at Younce, Vtipil, Baznik & Banks is a good way to inform yourself about your legal rights. The consultation is free.
Seeking Compensation after a Reckless Driver Accident
A driver who hit you may face criminal charges of reckless driving. But you must pursue a separate civil claim to seek financial compensation for your medical bills and other losses in the accident. You can seek compensation by filing an insurance claim or by bringing a personal injury lawsuit in civil court. You can pursue your personal injury claim even if the charges are dropped or the driver is acquitted of criminal charges of reckless driving.
A caring and professional lawyer with Younce, Vtipil, Baznik & Banks can help you build a case for full compensation for your injuries. As your attorneys, we will handle all the paperwork and communications with the insurance companies so you can focus on recovering from your injuries.
If the other driver has been charged with reckless driving and/or other charges, that is strong evidence of their responsibility for the accident. In addition to compiling evidence of the other driver's fault, we will calculate the full extent of your injuries and losses and submit a demand letter to the responsible insurer.
If the insurer does not agree to a reasonable settlement to cover your losses, we can pursue a personal injury lawsuit on your behalf.
Compensation potentially available to you in a reckless driving accident claim includes payment for your:
Medical expenses
Damage to your vehicle
Lost income
Pain, suffering, and emotional distress
Loss of enjoyment
Loss of consortium
Punitive Damages
You may also be able to pursue punitive damages to punish the reckless driver and deter others from committing similar acts. To win punitive damages, must prove that the reckless driver showed willful or wanton conduct that led to your injury.
Not all careless and reckless driving cases merit punitive damages. The definition of willful and wanton conduct for a jury award of punitive damages (NCGS 1D-5(7)) includes similar, but different, factors as the definition of reckless driving:
"Willful or wanton conduct" means the conscious and intentional disregard of and indifference to the rights and safety of others, which the defendant knows or should know is reasonably likely to result in injury, damage, or other harm."
Contact a Raleigh Reckless Driving Accident Lawyer
If you have already been in touch with the insurers about a reckless driving accident, you should be cautious. An insurance adjuster is obligated to protect their company's bottom line and will attempt to pay the lowest amount possible to settle your claim. They almost certainly will not consider a settlement that includes the punitive damages available under North Carolina law. The personal injury attorneys at Younce, Vtipil, Baznik & Banks can help you seek full compensation for the trauma you have experienced through no fault of your own.
If you have been injured in a crash caused by a reckless driver, the reckless driving lawyers at Younce, Vtipil, Baznik & Banks are ready to put our resources and legal knowledge to work to demand maximum compensation for you. We will pursue all sources of compensation available to you.
Contact us online or at 919-661-9000 today for your free initial case review. We will not charge a fee for our services if we do not recover compensation for you.