Rocky Mount Personal Injury Attorneys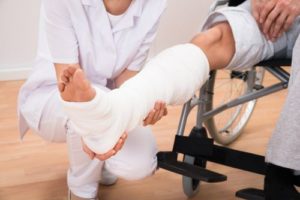 If you have been seriously injured in a car crash or other type of accident in Rocky Mount, you may be unable to return to work. You may have unpaid medical bills piling up and be struggling financially. You may feel overwhelmed and unsure how to get back on your feet. You need the guidance of a trusted Rocky Mount injury lawyer who has helped many people in difficult situations in Edgecombe and Nash Counties. You need a compassionate attorney who will stand up for you when you need help most.
The attorneys at Younce, Vtipil, Baznik & Banks, P.A., concentrate on providing thoughtful and effective legal representation to help clients move forward with their lives. We will pursue a positive outcome of your case, whether that involves negotiating a fair insurance settlement, helping you secure workers' compensation or disability benefits or demanding justice in a courtroom. Our legal team includes members who are fluent in English and Spanish, so we can discuss your case in the language you feel more at ease talking about legal matters.
Whether you sustained a serious injury in Rocky Mount or elsewhere in Eastern North Carolina, our attorneys are available to answer your questions and explain your legal options. There is no charge for the claim review and case consultation.
What Kinds of Cases Do Our Rocky Mount Lawyers Handle
Our Rocky Mount personal injury attorneys assist people who have suffered severe injuries in car crashes and other accidents caused by others' carelessness or disregard for safety. Many disability claims that are initially turned down can be approved on appeal.
Personal Injury — Every personal injury accident has factors and circumstances that make it unlike any other. The amount of money available after a serious accident will depend on numerous factors including the seriousness of the injury and insurance policies available to pay compensation. The personal injury lawyers at Younce, Vtipil, Baznik & Banks, P.A., offer experienced legal representation to victims of personal injury accidents in Rocky Mount and throughout Nash and Edgecombe counties. If you have been injured as a result of another's careless conduct or misconduct, you should speak with a qualified attorney to understand your legal options. A free consultation with Younce, Vtipil, Baznik & Banks, P.A., will enable you to make well-informed decisions about how to proceed.
Workers' Compensation — If you have sustained a serious injury on the job in Rocky Mount, you may be entitled to receive workers' compensation benefits to cover your medical care and replace part of your lost wages. Workers' compensation is a type of insurance paid for by employers. Most full- and part-time employees in North Carolina are entitled to workers' compensation benefits. If your employer has denied your claim for workers' compensation benefits, you may need an experienced workers' compensation lawyer to help you. Two attorneys at Younce, Vtipil, Baznik & Banks, P.A., have obtained special training in this area of law and are Board Certified Specialists in North Carolina workers' compensation law. Let us review the details of your workplace injury and discuss how we may help. Our law firm is committed to helping injured workers.
Car Accidents — A serious car crash or motorcycle accident can disrupt your life and saddle you with tens of thousands of dollars of medical bills. Your injuries may leave you unable to work or limit the types of work that you can do. If another motorist caused your injuries through careless driving, you may have a right to demand compensation from the at-fault driver's insurance for your medical expenses and other losses. But you will be at a disadvantage if you try to negotiate with the other driver's insurance company on your own. It is hard to know what the fair value of your claim should be if you do not have an experienced attorney handling your personal injury claim. Our car accident attorneys can carefully calculate your losses including future medical care and help you pursue maximum compensation for your injuries. Our Rocky Mount injury lawyers are experienced at negotiating with insurance companies and settling claims. Let our attorneys discuss how we can help.
Wrongful Death — If you have lost a close family member due to another's disregard for safety or willful misconduct, you need an understanding attorney who will take full account of the many ways your loved one's loss has affected your life. Our attorneys will review the details of your loved one's death and discuss whether a wrongful death lawsuit may be in order. North Carolina law allows certain immediate family members of a deceased person who died a wrongful death to bring a civil lawsuit. While no amount of money can bring back your loved one, a wrongful death settlement can assist with paying funeral bills and provide some financial security for your family. Let us explain how we can assist.
How Our Rocky Mount Attorneys Can Assist You
Personal injury lawsuits demanding compensation for serious injuries in Rocky Mount are filed in Superior Court if the amount in dispute is more than $25,000.
The court addresses are:
Edgecombe County Clerk of Court
301 St. Andrew Street
Tarboro, NC 27886
Phone (252) 824-3200
Nash County Clerk of Court
234 W. Washington St.
Nashville, NC 27856
Rocky Mount Judicial Center
305 Cokey Road
Rocky Mount, North Carolina 27802
Phone (252) 212-3102
Contact Our Attorneys in Rocky Mount, NC
Our compassionate attorneys understand that you are going through an extremely difficult time. We will review the circumstances of your injury and review the steps you may take to move forward. If your case is the type that we handle, we will offer experienced legal representation to help you move forward. Call to discuss your situation with an attorney.