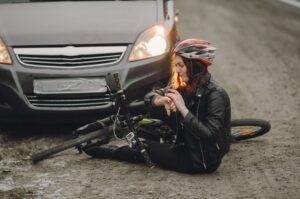 Have you been hurt in a bicycle accident that was caused by someone else? If so, you may be entitled to seek compensation for your medical bills, lost income, pain and suffering and other losses. The attorneys at Younce, Vtipil, Baznik & Banks, P.A. can help you evaluate your legal options.
We are committed to providing outstanding client service and steadfast legal representation. We look forward to putting our considerable experience and resources to work on your case. Call us today or contact us online for a free consultation to answer your questions and discuss your options.
What Should You Do If You Were Hit by a Car When Riding a Bicycle?
If you suffer injuries in a bicycle vs car accident, taking the appropriate steps is essential to protect your rights and build a solid case. Here's what you should do:
Seek medical attention – Your health should always be the top priority after an accident. Allow the emergency responders to transport you to the hospital if they suggest you need treatment. Even if you think your injuries are minor, seek a medical evaluation immediately. A doctor's diagnosis documents your injuries and the connection to the bicycle accident.
Call the police — The law enforcement officer who responds may write an accident report detailing how the accident occurred and who was involved. The report may contain crucial evidence to support your injury claim. Request a copy of the official accident report.
Gather evidence – If possible, take photos of the accident scene, visible injuries, and any damage to your bicycle.
Collect witness information – Obtain names, phone numbers, and statements from any witnesses to the bike accident.
Report the accident to your insurer – You should notify your insurance company if you are involved in an accident. Be brief and stick to the facts. Before giving the insurance company a recorded statement, you should speak with a personal injury attorney. You don't want to say anything that could jeopardize your claim.
Contact an experienced personal injury attorney – Consulting an attorney as soon as possible is the best way to protect your rights after an accident.
Why Choose Younce, Vtipil, Baznik & Banks, P.A. for Your Bicycle Accident Case
A sudden accident can disrupt your life. It can leave you in pain, with thousands of dollars of unexpected medical expenses and many questions about how to proceed and where to turn for help. The attorneys at Younce, Vtipil, Baznik & Banks, P.A. are proud to offer our clients personalized service and strategic legal representation to help you rebuild your life after a serious injury.
When you come to us for help, you'll work closely with seasoned legal professionals. We're here as your allies and advocates during life's toughest chapters. Our mission is to take the pressure off you, allowing you to focus on healing and reclaiming your life.
You deserve a legal team as focused on your recovery as you are. Let us stand up for your rights, and help you rebuild your life.
North Carolina Rights for Bicyclists
North Carolina law recognizes bicycles as vehicles. Bicyclists have the same rights and responsibilities when riding on the road as motorists "except those which by their nature can have no application." N.C. General Statute 20-4.01(49). Motorists must follow specific traffic laws and regulations designed to ensure the safety of bicyclists. For instance, bicyclists are allowed to travel on all public roadways except fully controlled access highways (freeways) such as interstates. Unfortunately, many bicycle accidents occur due to motorists' negligence, recklessness, or failure to remain alert for bicyclists on the road.