Domestic Violence Victim Lawyer in Raleigh, NC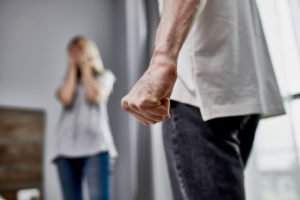 North Carolina law defines domestic violence as abuse that occurs between two parties who share a personal relationship. The law provides for protection of domestic violence victims through court restraining orders and arrest and imprisonment of those convicted of acts of domestic violence. It provides punishment for inflicting harm, attempting to inflict harm and for putting someone in fear of harm or continued harassment.
If you are in a violent domestic relationship and need help seeking safety, the lawyers of Younce, Vtipil, Baznik & Banks can assist you today. Our Raleigh family law lawyer is committed to both men and women victims of domestic abuse. A domestic violence lawyer from our offices in Raleigh, N.C., can help you seek a protective order and refer you to local organizations that can offer further assistance, such as immediate safe shelter.
Contact a Raleigh domestic abuse lawyer at 919-661-9000 or at our office on Lake Boone Trail at Exit 6 of the I-440 beltline in Raleigh. We offer you the opportunity to sit with us confidentially and go over the facts of your case.
Types of Domestic Violence Cases in Raleigh, North Carolina
Under North Carolina's domestic violence law, it is illegal to attempt or cause bodily injury to a spouse, child, grandchild or other family member or to put such individuals in fear of imminent serious bodily injury or harassment that inflicts substantial emotional distress. In addition to family members, the law applies to former household members, dating partners and former dating partners and individuals the perpetrator shares a child with.
North Carolina's domestic violence law covers physical and emotional abuse of anyone with whom the perpetrator has had a personal relationship. It says specifically that domestic violence encompasses the commission of forcible and statutory sex acts defined in G.S. 14-27.21 through G.S. 14-27.33 upon the covered individuals (i.e., marital rape is domestic violence and illegal).
Domestic violence may include:
Assault
Battery
Sexual assault
Emotional abuse such as hurling insults or humiliating remarks
Stalking
Harassment that torments, terrorizes or terrifies the recipient and that serves no legitimate purpose.
What Can You Do If You Are a Victim of Domestic Violence?
If you are in fear of immediate physical harm from a domestic partner, you should dial 911 for assistance from law enforcement. A police or sheriff's deputy will work to calm the situation and may make an arrest for assault, battery or sexual assault.
An officer may arrest an individual on domestic violence charges if there is probable cause to believe the person has committed a felony or certain misdemeanors, such as violating a domestic violence protective order, or if the officer believes the person may cause physical injury to himself or others unless immediately arrested.
An officer must arrest a person who has violated a domestic violence protective order that orders them to stay away from the residence or household of a domestic violence victim or that directs the person to refrain from doing certain acts, such as threatening the victim.
A victim of domestic violence may seek a protective order (often called a "restraining order"), which is a court order restricting the subject's actions. North Carolina courts issue two types of protective orders:
Temporary protective order (TPO). A TPO is meant for emergency situations and is issued without the abuser being present at the hearing. The subject of a TPO will have a chance to dispute the order at a later date.
50-B domestic violence protective order (DVPO). A 50-B order sets down restrictions that apply for up to one year. It is issued after a court hearing at which both sides are present and the abuser may argue against the order.
At either hearing, you have to demonstrate to the court why you need a protective order. As your domestic violence victim attorneys, we would speak on your behalf in court and provide evidence as to why a protective order is needed to safeguard your well-being.
Another option if you have been significantly injured by domestic violence may be to pursue a personal injury lawsuit. Such a claim would seek compensation for your losses, such as for medical expenses, including for psychological counseling, and/or for lost income if you were unable to work or your career suffered because of the abuse.
Filing for a Protective Order in Raleigh
Wake County courts have made it relatively easy for someone with a legitimate complaint of domestic violence to obtain a restraining order. A domestic violence victim's lawyer from Younce, Vtipil, Baznik & Banks can assist to ensure the process of seeking a protective order goes smoothly and that you are supported in every way at this emotionally charged point in time. We have male and female domestic violence attorneys and staff members to ensure your comfort.
First, you must complete a Complaint and Motion for Domestic Violence Protective Order form. It is available at the above link or from the Domestic Violence Unit at the Wake County Courthouse at 316 Fayetteville Street, Raleigh, Room 527, 5th Floor Civil Clerk of Court.
Among the information you'll need is:
Defendant's name and address
Defendant's work address and contact information
Descriptive information about the defendant (age, height, weight, distinguishing marks, car make and model)
Information regarding minor children such as dates of birth and addresses.
The form requires a description of the domestic violence that has led to the filing. You'll need to provide details of the latest incident in descriptive terms, such as that you were punched, kicked, sexually assaulted or threatened with violence. The description needs to be brief but provide a complete picture of the actual abuse.
The form also asks whether the defendant has guns, which can be seized under a DVPO.
By checking the right box on the complaint form, you may request a temporary protective order (TPO). This is an emergency order that takes effect immediately upon the judge's approval and typically lasts 10 days. Within the 10 days, a hearing for a permanent order would be held.
The complaint form must be signed and notarized. A notary public witnesses and attests to your signature, not the content of the document you have signed. Attorneys can act as notaries, as can members of the Wake County Domestic Violence Unit.
You must also complete the civil summons, which notifies the defendant to appear at a court hearing. This requires the abuser's name, address and other contact information, so the summons may be served upon the defendant.
Once you have completed your paperwork, you submit it to a sheriff's deputy in Courtroom 5A between 2 p.m. and 4 p.m. If you are seeking a TPO, you'll go before a judge immediately or the next day. If there's not an emergency, you'll be assigned a hearing date that is within 10 days.
At the hearing, you will explain to a judge that the defendant has committed an act of domestic violence against you and/or your children, that you remain in danger and, therefore, the order for the defendant to stay away from you is necessary. The defendant will be allowed to testify, as well, to plead for fewer or no restrictions.
If the court grants the order, it will be effective for one year, at which point you can seek an extension of the order, if necessary.
Violating a valid protective order is a Class A1 misdemeanor on a first and second offense, which can be punished by up to 150 days in jail and a discretionary fine. A third violation or a violation while possessing a deadly weapon is a Class H felony, which is punishable by 4 to 25 months in prison.
How Our Raleigh, NC Domestic Violence Lawyer Can Help
Younce, Vtipil, Baznik & Banks will stand with you if you have been victimized by domestic violence. We will respond promptly when you contact us. A domestic violence attorney will explain your legal options and the local assistance available to you. We can move swiftly to help you obtain a temporary restraining order, if needed, and to help you apply for a domestic violence protective order.
Let Younce, Vtipil, Baznik & Banks stand beside you and work as your advocate to help you obtain the legal protections available to get out of a violent or abusive relationship. We can gather evidence, subpoena witnesses and take the steps to help you to obtain the protection you need.
We are family law attorneys who recognize that domestic legal issues require a level of compassion and personal attention that goes beyond that expected in other areas of law. We will be there for you to maximize your chances of receiving the type of outcome that you desire in your case and to do so as smoothly as possible.
Please contact us today for a confidential consultation. Call us at 919-661-9000 or contact us online or visit our Raleigh offices.