Truck Braking Distance and Truck Accidents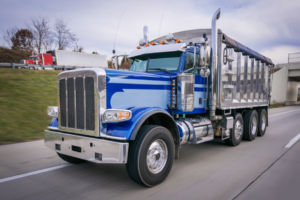 The weight of a large commercial truck – 20 to 30 times the weight of a passenger vehicle – makes the vehicle harder to stop. The size of a tractor-trailer also increases the risk of severe injuries and fatalities if there is a collision.
Under good conditions, a fully-loaded commercial truck traveling at 65 miles per hour needs the length of nearly two football fields (approximately 525 feet) to come to a complete stop, according to the Federal Motor Carrier Safety Administration (FMCSA). By comparison, a passenger car traveling at 65 mph requires about 316 feet or roughly half the distance to stop.
Truck drivers and trucking companies are responsible for ensuring that the large trucks they operate are safe and are driven safely. Truck drivers must stay focused on the road because any delay in braking when needed can lead to a crash. Anyone seriously injured in a truck accident caused by a truck's failure to stop may be eligible to seek compensation for their losses.
After being injured in a truck accident in Raleigh, NC, or surrounding areas, contact the truck accident attorneys at Younce, Vtipil, Baznik & Banks, P.A. at 919-661-9000 or online for help. Our truck accident attorneys can discuss your legal options and represent you throughout the process of pursuing fair compensation for your losses. We are dedicated to pursuing justice for seriously injured clients so they may regain their health and move forward with their lives.
Stopping Your Car vs. Stopping a Commercial Truck
There are three things that must occur for a motor vehicle to go from highway speed to standing still in time to avoid a collision:
Perception. The trucker must recognize the need to stop.
Reaction. Once the trucker knows he or she needs to stop, he or she must apply the brakes.
Reduction. The brakes must reduce the truck's speed enough to bring it to a stop.
Anything that delays a driver's perception of the need to stop, which should take about three-quarters of a second, can jeopardize the ability to stop in time. In a truck, reducing speed is also delayed by a "brake lag" that does not exist in passenger cars.
Most of today's passenger vehicles have hydraulic brakes, in which the pressure of hydraulic fluid in a closed system operates the braking mechanism. Large trucks have air brakes because an air-powered pressure system allows the vehicle's multiple braking units to be linked and controlled from the cab. When a trucker applies the brakes, air pressure has to build up across the length of the truck before the brakes begin to slow the vehicle.
The brake lag intrinsic to air brakes adds to the time and distance required for a large truck to stop. This is in addition to the extra time and distance required to stop because of the momentum the moving truck has due to is weight. This requires truckers to recognize and react to the need to brake without delay and for a truck's brakes to be properly adjusted. A lot is riding on the large truck's brakes – literally and figuratively.
A big rig may run through a red light or plow into the back of a line of stopped vehicles if the truck driver is:
Speeding, which makes the truck require even more distance to stop
Distracted or inattentive
Impaired by fatigue
Impaired by drugs (illicit or medicinal) or alcohol.
According to the FMCSA, in 2018, at least one driver-related factor was recorded in a third of the fatal crashes involving large trucks. "Speeding of Any Kind" was the most frequent driver-related factor and "Distraction/Inattention" was the second most common for large truck drivers.
Brake Failure in Large Commercial Trucks
The professionalism and alertness of a truck driver are not enough to stop their truck if the brake system does not work properly. In the landmark Large Truck Crash Causation Study (LTCCS), brake problems, including failed brakes and brakes out of adjustment, were cited in almost 30 percent of truck accidents.
Brake failure in a large commercial truck is likely caused by:
Inadequate brake maintenance. The FMCSA requires truck owners to inspect, repair and maintain all motor vehicles subject to their control or to ensure it is done, such as by a third-party service company. Some companies try to save money by waiting longer between inspections, ignoring minor problems or hiring inexperienced or unscrupulous inspectors.
Brake imbalance. Applying some of the brakes on a truck harder or more often than others can cause unequal wear, which may lead to some brakes locking up and causing the truck to skid and/or jackknife. A brake imbalance can cause the over-used brakes to overheat, especially while going downhill, which can cause brake failure. Sometimes brake imbalance is caused by using mismatched mechanical components or by issues that make the pneumatic system apply air pressure to brakes unequally.
Brake overheating. If the driver brakes improperly on a downhill stretch of a drive, brakes can overheat, weaken and fail to control the truck's speed. A poorly trained driver or poor brake maintenance can contribute to overheating on a steep incline.
Lack of front brakes. Some truck owners think they can save money on brake maintenance and tire wear by disconnecting the brakes on a truck's cab. But this only shifts the full burden of slowing and stopping the entire rig to brakes on the trailer.
Overloaded trailer. As a truck's weight increases, so do its momentum and required braking distance. The weight of overloaded cargo can lead to excessive braking distances and overtaxed brake systems. Brakes can fail on an overloaded trailer, especially if the additional weight is combined with other issues such as poor maintenance, overheated brakes, imbalanced brakes, or wet roads.
We Investigate Truck Accidents and Brake Systems
Truck accidents caused by brake failure or failure to brake in time often lead to serious injuries or fatalities. Usually, there is some braking, often hard, last-second braking, so if there are skid marks, they may be shorter but heavier than usual.
Truck owners, whether individuals or companies are required to perform routine maintenance and make needed repairs to keep trucks in safe operating condition. Truck drivers are required to inspect their truck's systems every time they start a drive and to report problems with the truck's parts and equipment, including the brakes. A driver should not drive or be forced to drive an unsafe truck.
The Raleigh truck accident lawyers at Younce, Vtipil, Baznik & Banks can conduct a detailed investigation of the truck accident you were involved in to identify all the potentially at-fault parties. We will seek compensation from those who are responsible for the injuries that you have suffered.
The evidence we seek in a truck accident case usually includes:
Police report
Witness statements, including yours
Photos/video of the crash scene if available
Physical evidence at the crash scene, including skid marks or lack thereof
Vehicle damage
Mechanical examination of the truck
Vehicle EDR data.
Commercial trucks and recently made passenger cars have event data recorders (EDRs). These "black box" recorders automatically record a variety of data such as vehicle speed, brake status and diagnostic codes, which can be downloaded to understand what was happening prior to a collision. In modern large trucks, advanced anti-lock brake systems with stability control capability record similar data.
These records are maintained by trucking companies. If we are hired as your attorneys, we can send a spoliation letter to advise the trucking company of a pending legal claim and the need to preserve potential evidence, including EDR contents, as well as maintenance records and schedules, driver records and more.
We will also demand access to the crashed truck to test its brake system. Our mechanical experts can identify brake failures and deficiencies by testing valves, gauges, warning devices and the pressure supply system. They examine brake linings to identify brake imbalance.
We will calculate the extent of your losses from the truck accident, including your medical expenses, lost income, damage to your vehicle, and your pain and suffering.
We will submit a claim to the insurance company and negotiate aggressively for full payment to you. We will discuss any settlement offers we receive and offer our perspective on whether the amount is appropriate, but the decision of whether to accept is yours. If the insurance company refuses to agree to a fair settlement, our truck injury attorneys at Younce, Vtipil, Baznik & Banks, P.A., will be ready to pursue justice for you in court.
Contact Our North Carolina Truck Accident Lawyers
If you or your loved one has been seriously injured in a truck accident, seek representation from a dedicated legal team that cares about your recovery and your future. The truck accident attorneys of Younce, Vtipil, Baznik & Banks, P.A., will provide a free consultation to review your legal options and discuss whether you have a valid truck accident claim. If we see a way forward, we will aggressively pursue full compensation for you.
CONTACT US TODAY
(855) 928-0570|(919) 351-8757