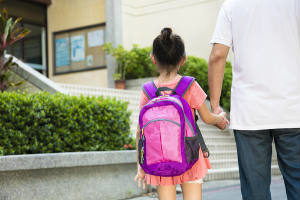 Now that traditional calendar schools are starting a new year, it is important for parents and kids alike to pay attention to important back to school safety tips. Whether your children ride a school bus, walk to school, ride a bike, or are old enough to drive to high school themselves, there are many significant safety guidelines that can help them avoid auto accidents and injuries.
Safety Tips for Children Walking or Biking to School
According to a safety tip sheet from the National Center for Safe Routes to School, here are some tips to share with your child to ensure they safely travel to school.
For kids who walk to school, pay attention to the following safety tips:
Younger kids should never walk to a bus stop or to school alone. Rather, they should always walk with an adult.
If your child walks to school, he or she should walk on the sidewalk if one is available. When on a street with no sidewalk, he or she should walk facing the traffic.
Before your child crosses the street, she or he should stop and look in all directions to see if cars are coming. Prior to crossing the street, be sure that your kids know to stop at the curb or edge and to wait for all traffic to pass before they attempt to cross. They should continue to keep a lookout for oncoming traffic while they are crossing the street.
In addition to looking before crossing a seemingly empty street, encourage your kids to be vigilant around parked cars, as a moving vehicle may be speeding down the road but obscured by the parked vehicle. Your child should never dart out in front of a parked car.
Whenever possible, your child should walk to school with a friend.
You should plan out a safe walking route with your kids, and they should always stick to that route.
Emphasize that your children should never get into a pushing or shoving match with other children near the street, even if they are playfully engaging with one another. Similarly, your kids should never chase one another when they are close to the street.
Be sure that your kids wear clothes that allow them to be seen. Brightly colored clothing can help motorists see your children, but you can ensure that they are visible by requiring them to wear reflective gear or carry a flashlight.
Your children should always obey all traffic signs and signals, and they should adhere to instructions given by school crossing guards.
If your child is riding the bus to school, you should go to the bus stop with your child to teach them the proper way to get on and off the bus. Make sure your child stands six feet away from the curb. If your child and you need to cross the street in front of the bus, walk on the side of the road until you are at least 12 feet ahead of the bus. You always should be able to see the bus driver, and the bus driver always should be able to see you.
If your children bike to school, be sure to take notice of these important safety tips from www.WalkBikeToSchool.org:
Make sure your child always wears a helmet when leaving the house.
Ensure that your child's helmet and bike are properly fitted to his or her size.
Be sure that your child's bicycle is visible to drivers, which means installing reflectors on the front, back, and both wheels.
Teach your children the rules of the road they need to know to ride their bicycles. They should always ride on the right side of the road and in a single file. They should come to a complete stop before crossing the street.
Teach your kids how to properly maintain their bicycles, which includes checking that tires have sufficient air, that the gears are working properly, and the chain is fitted tightly.
Always keep both hands on the handlebars of the bicycle unless you are signaling. Your child should never ride while carrying books or other items in his or her hands. These school items should go in your child's backpack or in a bag that is designed to fit onto the bike.
When riding in the street, your child should ride in the same direction as traffic. Your kids should obey all traffic laws and should always use hand signals when turning.
Pedestrian and bicycle safety is extremely important, and by adhering to safety tips for walking and biking to school, you can help prevent a serious accident.
Safety Tips for New Drivers
If you have older children who are going to drive to school this fall, it is also important to learn more about teen driving safety. Distracted driving is a serious problem among teenagers. According to a fact sheet from the National Safety Council (NSC), the following are important safety measures for preventing distracted driving collisions, as well as other accidents:
Do not allow your teen to use a cell phone in any capacity – for talking, texting, or internet browsing – while they are driving.
Do not allow your teen driver to transport other kids in the vehicle, as teenagers are more likely to get into a crash when there are other passengers.
Your child should never speed, and should always obey traffic rules.
Your teen driver should always wear a seat belt when she or he is behind the wheel, as well as if she or he is a passenger in someone else's vehicle.
Absolutely no alcohol or drugs.
How to Be Safer in the Mobile App Age
It is also possible to use technology to keep your kids safe on the road. While texting is one of the most common causes of teen driver distractions, some apps can actually help prevent a serious crash. According to a report from Mashable.com, there are a number of apps for both iPhone and Android devices that can "help parents discourage their kids from texting while driving," the report says.
What can these driving safety apps do? Here are a few examples:
DriveOFF:

detects when drivers are moving at speeds of greater than 10 mph and shuts off other apps that can distract the driver.

DriveMode:

once the driver is moving at speeds of greater than 25 mph, the app intercepts calls and texts, and informs that sender that the recipient is driving. It also disables call sounds and text alerts.

TextBuster:

this app disables text messaging, email access, and internet access when your teen's vehicle is moving.
Contact an Experienced Accident Lawyer in Raleigh
At the law office of Younce, Vtipil, Baznik & Banks, P.A., we are committed to helping families in the Research Triangle area who have been injured by another party's negligence. If your child got hurt while traveling to or from school, an experienced Raleigh auto accident lawyer at our firm can help. Contact us today to learn more about filing a claim for compensation.