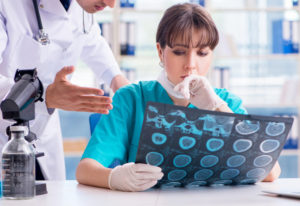 Emergency room doctors do not always identify the full extent of a car crash victim's injuries when providing trauma care after a collision. The symptoms of some serious injuries including head injuries may not be apparent for weeks or even months after the accident. A crash victim may develop post-traumatic stress after a life-threatening accident and require counseling. The initial diagnosis may be incomplete. If you move too quickly to accept an insurance company's settlement offer before you have been released from a doctor's care, you may be shortchanging yourself.
Having a complete medical record of your injuries and a clear understanding of all your present and future medical needs is crucial to maximizing your recovery in a personal injury claim. Once you sign a liability release and accept an insurance company's settlement check, you cannot go back to the insurance company and ask for more money if you have additional unforeseen medical expenses.
This issue of incomplete diagnoses underscores the importance of having an experienced personal injury attorney guiding you through the car accident injury claims process. A knowledgeable injury attorney will make sure that your medical records are complete and your future treatment needs are understood. The attorney should determine the full extent of your medical expenses and financial losses before entering into a settlement agreement.
Can a Missed Diagnosis Hurt Your Car Wreck Claim?
The issue of missed diagnoses and incomplete diagnoses is common. Misdiagnosis may lead to 80,000 to 160,000 serious cases of harm to people's health each year, a recent study estimates. Between 40,000 and 80,000 patient deaths in hospitals in the United States may be related to misdiagnosis.
The study, led by Dr. David Newman-Toker, Ph.D., director of the Johns Hopkins Armstrong Institute Center for Diagnostic Excellence, determined that the most significant diagnostic errors related to a surprisingly small number of conditions, according to Medical News Today. In fact, misdiagnoses of three conditions—infections, cancers and vascular events such as stroke and pulmonary embolisms— were responsible for nearly 75% of all serious harm related to misdiagnosis errors.
Diagnostic errors are recognized as a significant source of preventable harm to patients. If you have been harmed by the misdiagnosis of a medical condition related to a car accident or other personal injury accident, you may have a right to seek full compensation for all your injuries and losses. The personal injury lawyers of Younce, Vtipil, Baznik & Banks, P.A., can work to help you seek full compensation.
Researchers broke down the "big three" – cancer, vascular events and infection – into 15 specific conditions, the misdiagnosis of which often resulted in serious harm. Excluding cancers, they include:
As a study in the Journal of the National Medical Association explains, "The most common cause of death following trauma (personal injury) is sepsis. The traumatized patient has a significant increased risk of infection." The need for transfusions, the prevalence of hypotension (low blood pressure) and the prolonged use of ventilators, if necessary, are predictive for blood infections.
Another piece of research, entitled "Early predictors of sepsis in the motor vehicle crash trauma victim," cited major blood vessel injury, head injury, internal injury of the chest or abdomen, spinal cord injury, certain fracture types and having seven or more injuries as predictors of sepsis.
The Mayo Clinic explains that sepsis has the potential to be a life-threatening condition caused by the body's response to an infection. Sepsis can lead to damage to multiple organ systems. If the sepsis develops into septic shock, the blood pressure may plummet dramatically. Septic shock may lead to death.
"Suffering an injury to the head or neck increases ischemic stroke risk three-fold among trauma patients younger than 50," according to research presented at the American Heart Association's International Stroke Conference. Torn blood vessels leading to the brain in the head or neck resulting from a car accident can be a source of blood clots that cause a stroke may be preventable. Similarly, blood clots formed by trauma to the heart can cause heart attacks.
Even if none of these conditions are a direct consequence of an accident, like a car accident or a serious fall, they should be considered in a personal injury claim. But if they were not correctly diagnosed in a timely manner, they may not have been included in evidence compiled for your claim. An incomplete diagnosis can adversely affect your accident claim.
Mental Health Issues After a Traumatic Injury
Another cost often overlooked in personal injury claims is the costs of psychological recovery. Suffering or even witnessing a loved one's catastrophic injury in a violent accident can cause psychological issues akin to post-traumatic stress disorder (PTSD). A permanent disability from an injury or a long-term recovery can lead to depression.
But psychological problems are difficult to diagnose. Most doctors are primarily trained to cure physical problems and can easily misdiagnose or fail to consider mental illness. A PTSD response to trauma is by its very nature a delayed response. Meanwhile, patients are trained by society (improperly) to say, "I'm fine" in response to questions or offers of help, whether to reassure themselves or to avoid the stigma of mental illness.
Counseling needed to cope with the aftermath of a traumatic injury is available and helpful in most cases, and the costs are recoverable in a personal injury claim.
Contact a Raleigh Personal Injury Attorney
If you have been seriously injured in a car accident that someone else caused, you deserve full compensation for the costs of the harm you have unjustly suffered. The personal injury lawyers of Younce, Vtipil, Baznik & Banks, P.A., can gather your medical records and prepare a claim that reflects the full extent of your losses after a car accident or other personal injury accident.
When someone else was at fault for your injuries, you should not have to worry about paying the medical bills necessary to make your life right again. Our attorneys handle a variety of personal injury claims throughout North Carolina, including car wrecks, truck wrecks, motorcycle accidents, slip-and-fall injuries, on-the-job injuries, wrongful death cases and others.
Let us review your case at no charge to evaluate what we can do to help you seek all of the compensation available in your situation. Just fill out our online contact form or give us a call today.