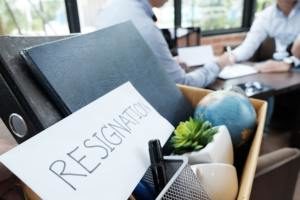 There are many reasons a person may quit a job. However, you should keep in mind that leaving an employer that owes you workers' compensation benefits can complicate a pending workers' compensation claim.
Resigning from a company that is responsible for your workers' compensation benefits should be a carefully considered decision. Your employer will inevitably argue that the company's legal responsibility to you ends if you voluntarily leave the company. Your North Carolina workers' comp attorneys at Younce, Vtipil, Baznik & Banks, P.A., will fight to prove that you had to resign because of your injuries. But we would hope you discussed the move with us before tendering your resignation.
If you have a North Carolina workers' compensation claim or a settlement paying ongoing benefits, we strongly suggest you consult a qualified N.C. workers' comp attorney before voluntarily changing your employment status. You can contact our office in Raleigh for prompt help.
Portability of Workers' Compensation Medical Benefits
Benefits paid through workers' compensation insurance are meant to pay medical expenses derived from an occupational injury or illness and to replace a portion of wages lost during recovery or due to disability. Wage-replacement benefits pay two thirds of the average of your weekly wages for 13 weeks prior to your injury. Permanent disability benefits vary according to the extent of the injury and whether a worker is partially or totally disabled.
Your employment status after suffering an on-the-job injury should not affect your eligibility for workers' comp medical benefits. Indeed, many seriously injured workers leave the workforce because of injuries suffered in workplace accidents. However, workers' compensation continues to pay for doctor-authorized medical treatment and/or ongoing care needs.
If you leave your employer or move to a new job and you still have bills from prior medical treatment and need additional treatment related to an occupational injury, workers' comp should continue to pay for them. Nothing about this portion of your claim has changed.
On the other hand, if you quit your job and then file a workers' compensation claim, your former employer and the insurance benefits administrator may view your workers' comp claim with suspicion. You will need to provide evidence that your injury occurred on the job before you quit. If you did not report the workplace accident at the time it occurred or notify your supervisor, that will cause complications and make it difficult to obtain benefits.
If you end your employment because you are permanently disabled, and it is understood you will not be able to return to work, your workers' comp permanent disability benefits should not be affected unless your medical status changes.
However, if you were receiving disability benefits and your medical condition improved, these payments may end. If you took a new job, any temporary total disability benefits (TTD) or temporary partial disability benefits (TPD) you were receiving would likely be ended.
Employers' Obligation for Workers' Comp Disability Benefits
If you resign your job, you can expect your former employer to terminate your weekly wage replacement benefits. Temporary disability benefits are meant to support the worker until he or she recovers and can return to work, either at full capacity or on light duty. If you quit your job, your employer would likely contend that you have decided to give up income from that employer, which ends their obligation to pay wage-replacement benefits.
However, if your workers' compensation claim has not been settled, you may be owed disability benefits. Before handing in your resignation, you should consult with a workers' compensation lawyer and be sure you understand the extent of benefits you are owed and whether resigning will jeopardize them.
Resigning from your current position to take another job will likely complicate your claim. If the new job pays the same or better than your previous employment, there should not be a wages-related issue. If it pays less, we suggest you consult a workers' comp lawyer about the financial consequences before making a move.
If you take a new job but have to accept less pay because of your injury, your previous employer's insurer may be compelled to pay you benefits to make up the difference. It would certainly take a workers' comp lawyer to argue this for you and make it happen.
A worker who was ultimately unable to perform the duties of a new job because of their injury might be able to reinstate their full disability benefit if, at the same time, they offered to return to work for the previous employer. However, this would not be available if the employer did not have a suitable position open — or successfully maintained that that was the case.
Preparing to Quit Your Job After a Workers' Comp Claim
If you are considering leaving a job after a workers' compensation claim, it is better to do so after your claim has been settled. If the settlement is fair to you and your employer, even at a perceived loss, your employer and their workers' comp insurer may decide it's not worthwhile to reopen the claim.
You should wait at least until you have reached maximum medical improvement from your workers' comp-eligible injury to leave a job. Once your doctor has signed off on your full course of medical treatment, our attorneys can calculate your total losses and determine what constitutes a fair workers' compensation settlement.
If you take a new job, be sure to tell that employer about your previous injury. A prospective employer cannot legally ask you about a prior workers' compensation claim. However, advising them — in writing — about your prior medical case puts it on the record for your protection. If you should suffer a workplace injury at your new place of employment, this information may prevent them from arguing that your new injury was a preexisting condition not eligible for workers' compensation benefits.
Contact a North Carolina Workers' Compensation Attorney
Workers' compensation cases are often complex. Leaving an employer who owes you benefits can create complications. If you have a workplace injury and anticipate a job change in North Carolina, the workers' compensation lawyers at Younce, Vtipil, Baznik & Banks, P.A., can review your case and advise you about potential financial consequences of your plans for the future. Contact us today.