Bridge Collapse Lawyer in Raleigh, NC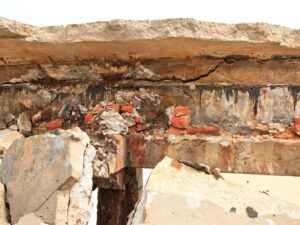 When the collapse of a highway bridge makes headlines, we are shocked by the deaths and injuries caused and reminded of our country's aging infrastructure. The American Society of Civil Engineers (ASCE) says 42% of all bridges in the U.S. are at least 50 years old, and 7.5% are considered structurally deficient. Structurally deficient means that one or more of the key structural elements — the deck, superstructure, substructure, or culverts — is in poor condition or worse.
It's not just old bridges that collapse due to deterioration and neglect. As the collapse of arches over a new pedestrian bridge in Hickory, NC, in February 2022 and the collapse of a pedestrian bridge being constructed on Wake Tech's Northern Wake Campus in Raleigh, NC, in 2015 indicate, new bridges also can fail due to faulty design or construction.
When a bridge collapse occurs, anyone on or near the bridge can be injured or killed. Bridge collapse survivors or family members of those who were killed may seek compensation for their losses. A legal claim that involves government entities, the failure of engineering structures and/or negligent construction requires a law firm with experience and resources to pursue a complex case. In North Carolina, the legal team at Younce, Vtipil, Baznik & Banks, P.A. is ready to provide you with dedicated legal guidance.
For a free case evaluation, call us or fill out our online contact form now. You'll pay no attorney's fee unless and until you receive compensation from your claim.
North Carolina Bridges in 'Poor Condition'
The N.C. Department of Transportation (NCDOT) says that 8.2% of the 13,500 bridges along North Carolina's highways were considered in poor condition as of March 2021. Poor condition means its components are deteriorating and the bridge requires significant maintenance and possibly vehicle weight limits to remain in service. Extensive rehabilitation or replacement is usually required to fully address the issues on a bridge in poor condition.
NCDOT says it would cost more than $3.8 billion to replace all bridges in poor condition in North Carolina. Without adequate funding for repairs, many of the 1,100 overpasses, drawbridges, and other highway bridges in poor condition in North Carolina will continue to deteriorate, and be less able to support cars and trucks. Some may collapse.
Who Is Liable after a Bridge Collapse in North Carolina?
Highway bridges are typically owned by the state under the authority of the Department of Transportation or by a municipality. A bridge at a state school, like Wake Tech, is owned by the state. By law, North Carolina counties do not own or maintain roads and bridges.
This means a legal claim after being injured in a bridge failure might be filed against a governmental entity. State and local governments have adopted laws that waive the doctrine of sovereign immunity, in certain situations, but they've established strict procedures and deadlines for suing them.
Local governments in North Carolina have immunity from lawsuits when the act in question occurred while the government (or its employee) was performing governmental functions. Governmental functions are those traditionally performed by governmental bodies for the benefit of the public, such as overseeing the construction or maintenance of a bridge.
The investigation into a bridge failure would focus on the private designers, engineers, contractors, subcontractors, or inspection and maintenance companies hired by the state or municipality to construct, inspect and maintain the bridge. Often a bridge collapse is found to have occurred because of faulty design or construction of the bridge.
A person employed to work on a bridge who was injured when it collapsed would seek workers' compensation. In North Carolina, an injured worker cannot sue their employer for negligence. If the liable party was not their employer, the worker may pursue a third-party lawsuit as an injured construction worker.
Filing a Lawsuit After a North Carolina Bridge Collapse
Bridge collapses always come as a surprise and without an immediate explanation. The NCDOT and ASCE both often say bridges in poor condition are still safe.
Prior research has shown that the top 5 leading causes of bridge collapse, resulting in more than 70% of bridge failures, are:
Design error
Construction mistakes
Deterioration of underwater substructure
Collision
Determining why a bridge fell requires examining a variety of technical records, interviewing witnesses and examining the accident scene. The governmental entity in charge of the bridge will investigate, and those involved with legal claims will launch their own independent investigations. This means hiring engineers to analyze evidence and/or conduct forensic studies and provide their expert opinions.
If the cause of a bridge collapse becomes clear, the liable entity typically begins to negotiate to settle outstanding claims. If the cause remains disputed, legal claims may go to court.
In a large-scale bridge disaster causing numerous injuries or deaths, legal claims may be grouped together for handling once the primary defendants are identified.
As your attorneys, Younce, Vtipil, Baznik & Banks, P.A. would investigate to determine the cause of the bridge collapse and who should be held liable. At the same time, we would calculate the full extent of your losses and the compensation you were owed. We would submit a demand letter to insurers stating the compensation you were due.
If the insurer refuses to agree to a reasonable settlement, we would be able to file a formal lawsuit on your behalf. We settle most individual lawsuits through skilled negotiations, but we would be prepared to present a solid case in court if necessary. Our overall objective would be to recover maximum compensation for you.
Contact Our North Carolina Lawyers About Your Bridge Collapse Losses
If you or a loved one has been injured in a bridge collapse in North Carolina, you should seek guidance about your legal options. The attorneys at Younce Vtipil Baznik & Banks offer a free consultation to review the circumstances of your personal injury and your potential claim. If we proceed with a bridge collapse injury claim for you, we will do so on a contingency fee basis. You will not owe any legal fee until we recover compensation for you. Contact us online or call us at 919-661-9000 for your FREE, no-obligation consultation today.