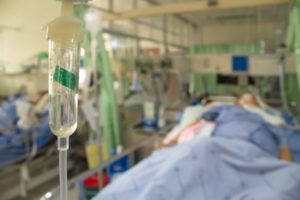 As Congress debated a COVID-19 relief package at the end of 2020, you may have heard that a sticking point was the Senate leader's insistence on providing liability protection to ensure that businesses could not be sued if customers or employees contracted COVID-19 from exposure to the virus on their premises. What was less well-publicized is the fact that as of September 1, 2020, more than a dozen states had passed legislation of their own, shielding businesses from COVID lawsuits.
North Carolina is one of those states. In 2020, the North Carolina General Assembly adopted a bill that provides that in a claim for compensation due to contraction of COVID-19, the defendant is not liable for "any act or omission that does not amount to gross negligence, willful or wanton conduct, or intentional wrongdoing." Gov. Roy Cooper signed the bill into law. The governor also signed a subsequent bill that granted the owners and operators of community pools the same immunity from COVID-19 liability.
In other words, the burden of proof for showing that you should be compensated for contracting the coronavirus at a business, government agency, or nonprofit is higher than simply proving someone was negligent.
Deciding what constitutes "gross negligence, willful or wanton conduct, or intentional wrongdoing" will be up to courts and juries. According to the North Carolina Pattern Jury Instructions, an act is willful if the defendant intentionally fails to carry out some duty imposed by law which is necessary to protect the safety of the person to which it is owed. An act is wanton if the defendant acts in conscious or reckless disregard for the rights and safety of others. This means that if a business has willfully violated closure orders or curfews, a claim may be successful.
At Younce, Vtipil, Baznik & Banks, P.A., our personal injury lawyers are reviewing possible COVID-19 coronavirus injury claim cases and seeking compensation for our clients, when appropriate. Phone us at 919-661-9000 or contact us online for a free initial consultation if you think you may have a claim.
What is Limited Immunity from COVID-19 Transmission?
The primary COVID-19 limited immunity statute spells out who and what it applies to. The law says "no person shall be liable" except as we describe above, and defines "person" as:
An individual
Corporation
Nonprofit corporation
Business trust
Estate
Trust
Partnership
Limited liability company (LLC)
Sole proprietorship
Association
Joint venture
Government
Governmental subdivision, agency, or instrumentality
Public corporation
Or any other legal entity.
The clause in the second law covers community pools, defined as "a privately owned community swimming pool, including a swimming pool owned or operated by a multiunit apartment complex, homeowners association, or condominium unit owners association."
The immunity is granted for claims filed up to 180 days after North Carolina's state of emergency order regarding coronavirus protections is lifted. Unfortunately, as of this writing, there are no concrete plans for when this order may be rescinded.
Some politicians and business lobbyists have pushed for blanket immunity, which would eliminate the possibility of any claim based on the transmission of COVID-19. But this ignores the plight of those sickened because of others' bad actions and, some argue, weakens incentives for businesses to maintain a safe workplace. On the other extreme, some have argued there should be no immunity, which ignores the potential impact of legal costs on businesses already struggling through the pandemic and insurers facing billions in COVID claims.
North Carolina's law falls somewhere in the middle, allowing that in some cases it is correct to hold a "person" accountable for disregarding the danger of allowing COVID-19 to spread.
North Carolina's law also states specifically that COVID-19 immunity does not extend to workers' compensation claims.
Can I File for Workers' Compensation if I Get COVID on the Job?
If you believe you contracted COVID-19 from an exposure that occurred while you were at work or otherwise on the job, you should seek workers' compensation. If your employer disputes your claim, you should also contact an experienced North Carolina workers' compensation attorney. We believe many employers and their insurers will fight COVID-related workers' compensation claims filed by workers outside of occupations at the highest risk for COVID exposure.
Workers' compensation pays for medical care and a portion of lost wages if an employee cannot work because of an illness contracted during the performance of their job duties. Workers' compensation covers all medical costs, including hospitalization, medications, rehabilitation, and more.
In a workers' compensation claim, the employee needs to provide evidence that:
He or she contracted the illness from exposure at a job site or while performing assigned job duties, and
Because of their job, the employee is at greater risk than the general public for contracting the condition. Because COVID-19 is a pandemic, it will be important to be able to overcome the potential allegation that your COVID exposure likely occurred outside of your job.
North Carolina workers' compensation laws cite some specific occupational diseases contracted from chemical exposures, which do not require evidence of exposure greater than the general public's.
The Occupational Safety and Health Administration (OSHA) has divided job types into four exposure risk levels: very high, high, medium and lower risk. Most American workers will likely fall in the lower exposure risk or medium exposure risk levels, OSHA says.
Jobs with a very high or high potential for exposure are held by healthcare and medical laboratory workers and funeral home workers.
The medium exposure risk is found in jobs that require frequent/close contact with people who may be infected, but who are not suspected of having COVID-19. Workers in this category include:
Those who may have frequent contact with international travelers.
Those who may have contact with the general public in schools, high population density work environments, and some high-volume retail settings.
Those with a low risk include:
Remote workers
Office workers without frequent close contact with coworkers, customers or the public.
Manufacturing and industrial facility workers without frequent close contact with coworkers, customers or the public.
Healthcare workers providing only telemedicine services.
Long-distance truck drivers.
Many ill and injured workers lose important rights and benefits because they delay seeking the help of a workers' compensation attorney. Don't wait. Contact Younce, Vtipil, Baznik & Banks in Raleigh, NC, today. The initial consultation about whether you have a valid case is free.