Contact a Nurse and Healthcare Worker Injury Attorney if you were injured in a healthcare facility while on the job.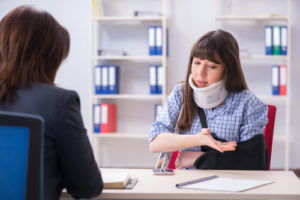 Health care workers face a wide range of safety hazards on the job including back injuries, sharps injuries, slip-and-fall injuries, exposure to infectious diseases and harmful chemicals, work stress and assaults by patients. Many nurses, nurses' aides and medical technicians develop musculoskeletal injuries as a result of repeated lifting and handling of patients. If you have been injured on the job, it is important to understand your legal rights to seek job injury benefits.
The experienced attorneys at Younce, Vtipil, Baznik & Banks, P.A., represent healthcare workers in Raleigh and throughout Wake County who have sustained serious injuries on the job and are having trouble obtaining workers' compensation benefits. A serious workplace injury may require extended medical care, rehabilitation and leave from work. You may be unable to return to work for weeks or months. Depending on your injury, you may be physically unable to stay on your feet for an entire shift. You will need an experienced North Carolina workers' compensation attorney who is committed to seeking compensation that reflects the full extent of your injury.
Our law firm has two Board-Certified Specialists in Workers' Compensation Law – Chip Younce and David E. Vtipil. We can apply our knowledge of North Carolina law to help you seek full benefits for your injury. Our compassionate nursing injuries attorneys understand the financial stress and disruption that a workplace injury can cause. We provide hands-on legal service based on your specific needs. Contact us to schedule a free workers' comp claim review and learn more about the process.
Common Types of Injuries to Healthcare Workers and Nurses
Hospitals and health care facilities are among the most hazardous places to work, according to the Occupational Safety and Health Administration (OSHA). Shift work and long hours put stress on healthcare workers and put nurses at risk of on-the-job injuries. The injury rate in hospitals is nearly double the rate for private industry overall, OSHA states.
Slip, Trip and Fall — Slip and falls on wet floors are common injuries among healthcare employees. Spilled liquids or an unsteady patient may cause a nurse, nurse's assistant or medical technician to lose their balance and fall, resulting in a sprained wrist or ankle, back injury or bone fracture. Healthcare workers have among the highest rates of slip, trip and fall injuries of any industry.
Overexertion Injuries — The most common cause of healthcare workers having to miss work was overexertion injuries. Healthcare workers may sustain muscle strains or other musculoskeletal injuries resulting from overexertion when manually lifting, moving or repositioning patients. Larger patients can present particular challenges.
Infectious Diseases — Healthcare workers are exposed to a wide range of infectious diseases from contact with patients, handling contaminated medical equipment and airborne transmission of bacteria and viruses. Nurses and nurses' assistant may contract infectious diseases from exposure to bodily fluids and blood-borne pathogens.
Sharps Injuries — Workplace injuries caused by needles and other sharp instruments are a recognized job safety for healthcare workers. A sharps injury involves a puncture wound or stab wound caused by a needle, scalpel or other sharp object. They frequently occur in fast-paced settings such as hospital emergency rooms and surgery centers. A needlestick injury may lead to contraction of an infectious disease. Hepatitis B virus, hepatitis C virus and HIV, the human immunodeficiency virus are three of the most common diseases healthcare workers may be exposed to from blood borne pathogens transmitted in needlestick injuries.
Harmful Chemicals — A wide range of hazardous chemicals are present in hospitals, nursing homes and other healthcare facilities. They are used to treat patients, sterilize medical instruments and work surfaces, and to preserve tissue specimens. The chemicals also may cause harm to health care workers through workplace exposure. For example, aerosolized medications may pose an occupational health hazard to nurses and respiratory therapists who administer them.
Violence — Healthcare workers in hospitals, nursing homes and other healthcare facilities face significant risk of physical assaults and violence in the workplace. Doctors, nurses, and nurses' assistants may sustain serious injuries in dealings with combative, unstable and volatile patients who may be under the influence of drugs. Some physically aggressive Alzheimer's patients may hit or assault a nursing home worker. The rate of violent workplace incidents requiring that the injured worker have time off to recover is four times higher in healthcare than in private industry overall, according to the U.S. Department of Labor. Physical violence is a recognized hazard for healthcare workers.
However your injury occurred on the job, you should understand your rights to paid medical care and other benefits.
Rights as an Injured Healthcare Provider
Healthcare employees who are injured on the job in North Carolina are generally entitled to workers' compensation benefits. You may be entitled to receive workers' compensation benefits until the doctor says that you are sufficiently recovered to return to work.
Workers' compensation is an employer-paid insurance program. Nearly all employers in North Carolina are required to carry workers' compensation insurance to cover employees. It provides fully paid medical care for job-related injuries and illnesses and partial compensation for lost wages while you are out of work.
You also may have a right to workers' compensation benefits if you develop an occupational injury over time such as repetitive trauma injury caused by lifting or by repetitive motions.
If your claim for workers' compensation is denied or if your employer disputes your right to receive benefits, you have a right to appeal. You have a right to request a hearing before the North Carolina Industrial Commission. This is to appeal a denied claim for benefits.
Healthcare workers have a right to do their jobs without fear or intimidation. A person who assaults a nurse or other healthcare worker on hospital property may be charged with a felony under North Carolina law. While holding the assailant criminally responsible may be appropriate, a criminal conviction will not provide any compensation to help the healthcare recover from your injuries or missed work. An injured healthcare worker may have a legal right to file a separate civil lawsuit seeking compensation for personal injury caused by workplace violence such as a physical assault.
Should I Hire a Lawyer to Appeal My Denied Workers' Comp Claim?
The complexity of the workers' compensation appeals process makes it helpful to have an experienced lawyer guiding you through the process.
The knowledgeable attorneys at Younce, Vtipil, Baznik & Banks, P.A., can help you file a request for a hearing, gather medical evidence and other documents to support your claim and represent you at the hearing.
We also can assist you in getting a referral to a medical specialist. This is to obtain a second opinion if you disagree with the treating physician's diagnosis of your injury.
We will guide you through the process of pursuing an appeal of a denied claim. We will stand beside you throughout the process. Our attorneys will be accessible to answer any questions that you have.
We will help you understand whether a workers' compensation settlement is fair and reasonable. Also how it may affect your right to seek future benefits if your health condition changes.
How to Get Workers' Compensation Benefits for Nurses and Other Healthcare Workers
If your injury occurred while you were performing your duties as a healthcare worker, you may be entitled to certain types of injured worker benefits.
Under North Carolina law, you may be entitled to receive:
Payment for all medical expenses, including for surgery, outpatient procedures, hospital stays, physical therapy, medications, and prosthetics.
Payment for a portion of your gross average weekly wage (up to a maximum amount). This income replacement benefit starts after you have missed more than seven days of work.
To qualify for benefits for a work-related injury, you are required to report the injury to your healthcare employer. You should report the injury orally to your supervisor or your employer's human resources office as soon as possible. You can then send a written notification of the injury within 30 days. If you are unable to make the notification yourself, you should have a family member do so on your behalf.
You will need to seek treatment from the list of doctors provided by your employer.
If your initial claim has been denied, our attorneys have the knowledge and experience to develop a workers' compensation appeal. They will gather medical documentation that fulfills the strict requirements of the N.C. Industrial Commission. Learn more about the NC workers' comp process.
Whether you have been injured while working in a hospital, surgical center, rehabilitation center or a nursing home, you owe it to yourself to talk an experienced and compassionate Raleigh workers' compensation to understand your legal options.
Contact a Raleigh Workers' Compensation Lawyer
Our Raleigh law firm understands how some employers and their workers' compensation administrators fight Healthcare Worker Injury Claims claims for workers' compensation benefits. Speak with a determined Raleigh nursing injury attorney about your rights as an injured healthcare worker. You and your family do not have to bear the burden of a serious healthcare job injury alone. If you or your loved one has been diagnosed with an occupational injury or illness, you need a knowledgeable attorney. An attorney who is concerned about your recovery and your future.
Schedule a free consultation to discuss whether you have a valid workers' compensation claim and let us explain your legal options. We are ready to get started on your Healthcare Worker Injury Claims claim with no upfront costs to you. You will not owe us anything unless we recover money for you. Let us put our knowledge and skilled to work for you. Call today.