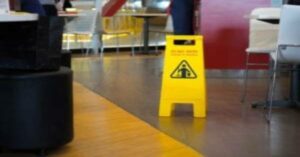 Every year, millions of people slip and fall in accidents and hurt themselves. One out of five falls causes a serious injury, such as a broken bone or a head injury. Falls are the most common cause of traumatic brain injuries (TBIs) and cause 95% of hip fractures. Both brain injuries and broken hips may be permanently disabling.
When a slip-and-fall accident occurs because of unsafe conditions on another person's property, the individual injured may be entitled to seek compensation from the negligent property owner. Property owners have a legal obligation to take reasonable steps to maintain their property to protect anyone who legally visits their premises. When a property owner shirks his or her responsibility and someone is injured as a result, the property owner may be financially liable for the injured person's medical bills and related losses.
If you have been seriously injured in a slip-and-fall accident caused by someone else's negligence, you may seek compensation for your medical expenses and more. To recover a settlement, you will need to prove the property owner was at fault and caused your injury. The slip-and-fall accident lawyers of Younce, Vtipil, Baznik & Banks, P.A., can help you pursue a slip-and-fall accident claim in Raleigh and the surrounding areas.
How To Prove Negligence in a Slip And Fall
In a slip-and-fall claim, the injured person must prove the defendant's negligence, or fault, for their injury. Under North Carolina's strict rules, the injured person cannot recover compensation if he or she did anything to contribute to the accident.
To prove a defendant's negligence, a plaintiff must show:
The defendant had legal responsibility for the safety of the injured person
The defendant breached that duty by failing to keep up the property or address an unsafe condition
The breach of duty caused the plaintiff's injury
The defendant should have foreseen the likelihood that someone would be harmed by their action or failure to act
The injury resulted in compensable costs and losses.
A slip-and-fall accident claim states that the injured person fell and sustained an injury on the property because of a hazard the property owner knew existed or should have known existed and failed to correct or warn about in a timely manner.
For a successful claim, you will need to gather evidence to show that the property owner or property manager:
Breached his or her duty to keep the premises safe for legal visitors by causing or allowing a hazard to exist within the building or on the grounds
Should have known about the hazard
Or was aware of the hazard but did nothing to address it
Or took inadequate steps to mitigate the hazard or warn visitors about it
The hazard caused the plaintiff to fall
The fall caused the plaintiff physical and/or mental injury, which resulted in compensable damages.
The injured person's claim for compensation would go to the defendant's insurance company, which would determine whether to pay the claim and, if so, how much to offer to settle it. In addition to outlining evidence of the property owner's liability, a demand letter would state the compensation owed to the plaintiff. The amount paid may be subject to negotiation.
To have the best chance of success, an injured person should enlist the help of an experienced Raleigh slip-and-fall injury lawyer to gather evidence, develop a persuasive case and negotiate with the insurance company for a just settlement.
Compensation Available in Slip-and-Fall Cases
Compensation paid in a slip-and-fall claim is meant to make the injured person financially whole. Settlements are often thought of as economic damages (for quantifiable costs such as medical bills and lost income) and non-economic damages (for intangible losses such as emotional suffering).
Compensation recovered in a slip-and-fall case may include money for:
Medical expenses related to the injury, including emergency room treatment, surgery, costs of rehabilitation, assistive devices such as crutches or a wheelchair, or nursing or personal assistance
Lost wages during time away from work
Diminished earning capacity in cases of ongoing disabilities
Pain and suffering
Emotional distress
Future medical costs if your injuries will require ongoing medical care
Loss of enjoyment of life
Loss of consortium
A demand letter to an insurer or a formal lawsuit would state the amount of compensation sought. To determine the appropriate amount to seek, we would add up quantifiable costs and separately determine a figure for non-economic damages. Typically, noneconomic damages due are calculated as a multiple of economic damages, according to the severity of the injuries.
Evidence in Slip-and-Fall Cases
To win a slip-and-fall case, we must persuade the property owner's insurance company or a jury that the property owner was at fault and the plaintiff was hurt through no fault of his or her own. Evidence may come from any combination of:
Witness statements, from the accident victim, the accident victim's companions or others who saw the accident, or employees who can testify about the condition of the property
Accident reports filed with the property owner or business or by emergency responders
Photos or video from security cameras or witnesses' phones that may depict the hazard and/or the accident happening
Property maintenance records that may indicate that the need for repairs was known but put off
Expert witnesses who may testify about proper/improper maintenance or use of the property, and the connection between the dangerous property conditions and the plaintiff's injury.
Showing That You Were Not Being Careless
An insurance company may attempt to show that the injured person was acting carelessly when the accident occurred and therefore contributed to his or her own injuries. If a property owner in North Carolina can show that the injured person contributed to the slip-and-fall accident in any way, then the victim is not entitled to collect compensation. The rule of thumb is that the property owner is not responsible for someone hurt by a hazard that a reasonable person would have recognized and known to avoid.
For example, if the injured person was not paying attention when he or she encountered a hazard that led to the accident, then the accident victim would have a weaker claim. This includes someone who was talking on a phone, texting or otherwise looking at a screen, turning to talk to someone or carrying objects that obscured the view of the hazard.
A property owner may post barriers or warning signs to mitigate a hazard they cannot remove right away. Their insurer may argue that these barriers or signs were adequate to alert a reasonable person to the danger. However, some warnings, such as a handwritten sign taped to a wall or a single yellow caution cone may not necessarily be adequate.
Property owners also are given some leeway to respond in a timely manner to a newly formed hazard, such as a spill in a grocery store or snow and ice on a sidewalk. If an accident occurred before the property owner had a reasonable opportunity to discover it and address the problem, a jury might be persuaded the property owner was not at fault.
Finally, an accident victim who was trespassing when he or she fell typically does not have a legitimate claim. However, different rules apply for children who are too young to understand the potential danger of certain situations.
Contact a Slip-and-Fall Attorney
If you have been seriously injured in a slip-and-fall accident that occurred on someone else's property and was not your fault, you may be due compensation for your medical bills and losses. The personal injury lawyers at Younce, Vtipil, Baznik & Banks, P.A. in Raleigh, N.C., can investigate the accident to determine what compensation you are eligible to claim and aggressively pursue a settlement for you.
It is best to begin gathering evidence after a slip-and-fall accident as soon as possible. Contact us today for a free consultation with an experienced and compassionate North Carolina slip-and-fall lawyer. Phone 919-351-8757 or reach out online.