Dump Truck Accident Lawyer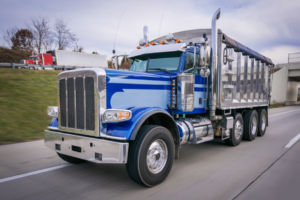 Dump trucks are heavy-duty vehicles that haul loads of dirt, sand, gravel, stone, asphalt, aggregate and other loose materials and demolition debris. A standard dump truck can transport from 20,000 to 30,000 pounds of material at a time. Some dump trucks are even larger. Because of their size and weight, dump trucks pose a hazard to other vehicles that share the roads. People in cars and pickup trucks that collide with dump trucks can suffer serious or catastrophic injuries in collisions.
If you have been injured or lost a loved one in an accident involving a dump truck, you should have an experienced Raleigh dump truck accident attorney review the details of the collision and explain your legal rights. You may be entitled to file an injury claim against the owner of the dump truck and seek compensation for your medical bills and related losses.
You shouldn't be left with medical debt because of an accident caused by a careless dump truck driver. Let our dump truck injury lawyers seek full compensation for you. The case review is free.
Causes of Dump Truck Accidents
The Triangle is a rapidly growing area with a lot of construction activity. Dump trucks are a common sight on the roads, transporting materials to and from construction sites. Dump truck drivers must have a valid commercial drivers' license and follow the safety requirements of the Department of Transportation and other regulatory agencies.
Dump truck drivers must perform pre-trip and post-trip inspections on the trucks and notify their supervisor of any safety issues that need repair. When transporting a load of raw materials, the driver must inspect the load, verify its weight and make sure the load is secure. When they fail to do so, accidents can happen.
When fully loaded, dump trucks need greater distances to brake safely. An inexperienced dump truck driver approaching an intersection may not allow enough distance to stop safely if the light turns red. Speeding dump trucks may plow through intersections and be involved in rear-end or side-impact collisions that cause serious injuries or fatal injuries.
Dump trucks are taller than most other vehicles, interfering with the dump truck driver's ability to see some nearby vehicles. Dump trucks have blind spots on all sides. Dump truck drivers have to remain alert and avoid distractions that can cause them to lose track of nearby vehicles and pedestrians that are hidden in blind spots.
If a dump truck driver follows another vehicle too closely, the driver may be unable to see the vehicle in the truck's blind spot. Drivers also may cause an accident by attempting to merge into a lane occupied by a vehicle in a blind spot.
Dump trucks hauling rock, gravel, stone or similar materials that could fall or blow out of the truck are required to have a tarp or similar covering to prevent spillage in North Carolina. Material spilling out of a dump can cause an accident.
What to Do After a Dump Truck Crash
Your first priority should be to report the accident to the police and seek medical attention for yourself and anyone else who is injured. You should not discuss the accident with the other driver or accept fault or apologize if anyone tries to blame you.
If you are able to move around safely, you should use your phone camera to take photos of the accident scene. Ask someone else to take photos if you are unable to do so.
Try to take photos of the position of the dump truck and other vehicles at the accident scene before they are moved. Take photos of any skid marks on the pavement. A lack of skid marks may indicate the truck driver was distracted or had nodded off at the wheel and did not attempt to avoid the collision.
Take photos of the company's name on the side of the dump truck and the license plate number.
If you have injuries, photograph your injuries and those of anyone else in your car.
Ask the law enforcement officer who investigates the accident when the accident report will be available and how you can obtain a copy.
If you have been injured, you should contact a personal injury lawyer to educate yourself about the legal options available to you. If you have significant medical costs and the dump truck driver or another motorist caused the collision, you may want to make a claim against the at-fault driver's insurance for your medical expenses and other losses.
A dump truck accident attorney at Younce, Vtipil, Baznik & Banks offers a free case review to evaluate your claim.
Who is Responsible If You or Someone You Know is Involved in a Dump Truck Crash?
Dump trucks are massive vehicles. Dump truck accidents are more likely to involve serious injuries and raise complex questions about financial liability. Typically, the owner of the dump truck is responsible for the driver's negligent actions.
A dump truck driver may have acted negligently by speeding or disregarding safety regulations.
A dump truck may have been overloaded, making it harder to control.
A highway work zone may have been improperly marked without adequate warning signs of lane shifts and construction trucks entering the highway. Unfortunately, dump truck drivers often drive too fast for road conditions.
A general contractor may have created hazardous conditions at the job site where dump trucks and heavy equipment were operating in proximity to construction workers on foot.
The owner of the dump truck may have failed to maintain the brakes, tires and other components of the truck in safe operating condition.
A construction company may be liable for its failure to conduct background checks on an impaired dump truck driver who had a record of drunk-driving accidents.
Another motorist may have made a dangerous driving maneuver, causing a dump truck driver to swerve suddenly and precipitating an accident.
An experienced dump truck accident lawyer at Younce, Vtipil, Baznik & Banks can conduct a thorough investigation to determine all the parties that may be held financially liable. Multiple parties may share liability for your dump truck accident injuries.
Commercial truck drivers and the owners of dump trucks and material moving equipment are required to have higher amounts of liability insurance than the drivers of passenger vehicles. Higher amounts of compensation may be available to dump truck accident victims because of the higher insurance limits. However, the insurance carrier for the dump truck owner and driver will have experienced lawyers advocating to minimize the amount of any settlement. You will need to have committed personal injury lawyers fighting for your best interests.
Our attorneys will assess the value of your losses from the dump truck crash, including your medical bills, lost wages from missed work, estimated future medical and rehabilitation expenses, and reduced earning capacity if you have disabling injuries. You also may seek compensation for your pain and suffering.
We will send a demand letter to the appropriate insurance company or companies, outlining your losses from the accident. Our attorneys will negotiate aggressively for a fair settlement. We will discuss with you any settlement proposals we receive and offer our insights on whether the offer is reasonable based on your injuries. If the insurer declines to enter into a fair settlement, the attorneys at Younce, Vtipil, Baznik & Banks will be prepared to go to court and present your case to a jury. We are dedicated to helping our clients move forward after a dump truck crash.
Contact an NC Dump Truck Accident Attorney
A dump truck accident can leave you unable to work with a stack of medical bills. You need a dedicated attorney who cares about your recovery and can offer trusted guidance.
The dump truck accident lawyers at Younce, Vtipil, Baznik & Banks handle accident cases involving large commercial trucks on a contingency fee basis. The process starts with a free consultation to review your legal options and discuss whether you are entitled to file a dump truck accident lawsuit.