Common Construction Site Injuries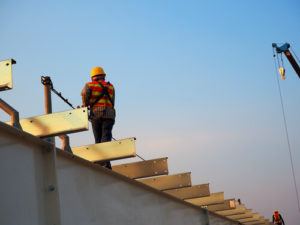 Construction injuries are some of the most common workplace injuries in the United States. With all the heavy equipment, scaffolding, unstable surfaces, swinging overhead loads and other hazards, construction sites can be very dangerous. With the proper safety precautions and training, construction workers can learn how to recognize and avoid many hazardous situations. There are some construction companies that are using new technologies and implementing innovative practices in order to better protect their employees and contractors.
Most Common Injuries on Construction Sites
Injuries and fatalities in construction work are too common. According to the Occupational Safety and Health Administration (OSHA), 20 percent of all worker fatalities in private industry in 2014 were construction workers.
OSHA calls the four most common fatal construction injuries the "Fatal Four."
Falls (39.9%)
Electrocutions (8.2%)
Struck by Object (8.1%)
Caught-in or between (4.3%)
The last category includes accidents in which workers get caught in or between equipment or objects or crushed by collapsing structures.
These four types of construction accidents led to 60% of construction worker deaths in 2014. According to OSHA, if these "Fatal Four" were eliminated, 545 construction workers' lives would be saved every year.
Falls on Construction Sites
As the leading cause of construction site fatalities, falls are a special area of concern for workplace safety inspectors. OSHA has a Fall Prevention campaign to educate and train construction companies and their employees on fall prevention to reduce the number of injuries and deaths.
The campaign has three prongs:
Construction companies need to take into consideration the costs and needs for safety equipment when planning a project.
The right equipment must be provided. OSHA regulations require that workers must be provided fall protection when working at elevations. Depending on the height, scaffolds and other safety gear may be required, and the correct equipment should be provided for the job. For roof work, each worker should have a personal harness that ties off to the anchor of a personal fall arrest system (PFAS). All fall protection equipment should fit properly and be regularly inspected to make sure that it is in good condition.
Workers should receive specific training in the proper set-up and use of safety equipment. They should be trained to recognize hazards and to maintain all safety equipment that they will use.
In the event of an accident such as a fall, the employer should have adequate NC workers' compensation insurance.
Construction companies should also remedy any construction site hazards and install inexpensive but useful safety measures, such as guardrails and toe-boards around holes in the floor, dangerous machines or equipment, and open-sided platforms.
Hazards to Passersby
Construction sites are not just dangerous for construction workers. Injuries to people passing by a construction site are not uncommon. In another state, reportedly one passerby is injured per month while walking past a construction site.
The injuries can be caused by a variety of things—falling objects like bricks or tools, dropped loads, broken glass and sidewalk sheds collapsing.
If construction companies improve their safety practices, then these kinds of injuries may also be avoided.
Common Safety Violations and How to Avoid Them
OSHA performs inspections of workplaces and receives reports of safety violations. Accidents involving lack of safety measures are entirely preventable if construction companies and their workers make safety a top priority. The top ten most frequent safety violations in construction for FY 2015 were in the following categories:
Fall protection. The proper equipment for working at elevated heights should be provided by the construction company. Workers should be aware of all the fall hazards at a construction site and refuse to work without the proper fall protection.
Companies must make sure that scaffolding is stable and well assembled and inspected before using. It should have guardrails, mid-rails and toe-boards to protect employees working on or around scaffolding. It should be at least 10 feet away from power lines. Workers must use hard hats if they are on, near, or under scaffolding, and should never exceed the maximum load or work on scaffolding covered in water, ice, or mud. Workers should only enter scaffolding at the access points. No tools should be left on the scaffolding at the end of the work day.
Stairways and ladders. Ladders should be inspected before each workday. Workers should use the appropriate ladder for a job, pay attention to the load capacity, and maintain three points of contact when going up and down the ladder.
Fall protection. Employers must provide the appropriate safety equipment and training to employees.
Eye and face protection. Eye and face protection such as safety googles and masks must be provided free of charge to workers and kept in good repair.
Head protection. Employers must provide workers with head protection that meets the required safety standards free of charge. Workers should use head protection any time they are on a construction site.
Hazard communication. Employers must have a written hazard communication program that includes info on all hazardous chemicals used at the site. Workers should know how to read the safety info and should wear protective equipment when handling hazardous chemicals.
General safety and health provisions. Employers must have a safety program in place to educate and protect workers and prevent accidents.
Aerial lifts. All employees that use aerial lifts must be properly trained and the lift must be inspected prior to use.
Fall protection systems criteria and practices. Fall protection systems must be installed before work begins. Workers should be aware of fall hazards and know how to properly use their protective equipment.
Safety Innovations
There are a number of products and innovations that have been released in the last few years that have a good chance of improving safety at construction sites. The best kinds of safety products can prevent or somehow remind the user of safe behavior.
Here are just a few of the products that could improve safety in the construction industry:
Tool trackers. Companies can use barcodes or other trackers to keep track of where their machinery, hand tools, and power tools are. If these tools are not properly stored, they can present a hazard
Wearable smart sensors. These sensors, depending on placement, can track where workers are, how long they have been on their feet, what the conditions are, and monitor the vital signs of a worker to try to prevent heat exhaustion or other conditions. Harness sensors can send a signal to the supervisor if there is a sudden drop in elevation.
Safety drones. Safety drones can get into spots to check on certain construction aspects that may be difficult or somewhat unsafe for a worker to get to. They can also be used to monitor workers.
Backup cameras for vehicles. A lot of accidents happen in parking lots when a vehicle is backing up and the driver did not see what was directly behind them. Equipping vehicles with backup cameras can prevent accidents.
Devices with thermal imaging. Heat—at least too much of it—is usually an indication that there is a problem, and thus a hazard. Devices that do thermal imaging can help manage those risks.
Although there are still too many fatalities in construction each year, with the efforts of OSHA and the cooperation of the private industry, the number of injuries and fatalities can continue to decrease.